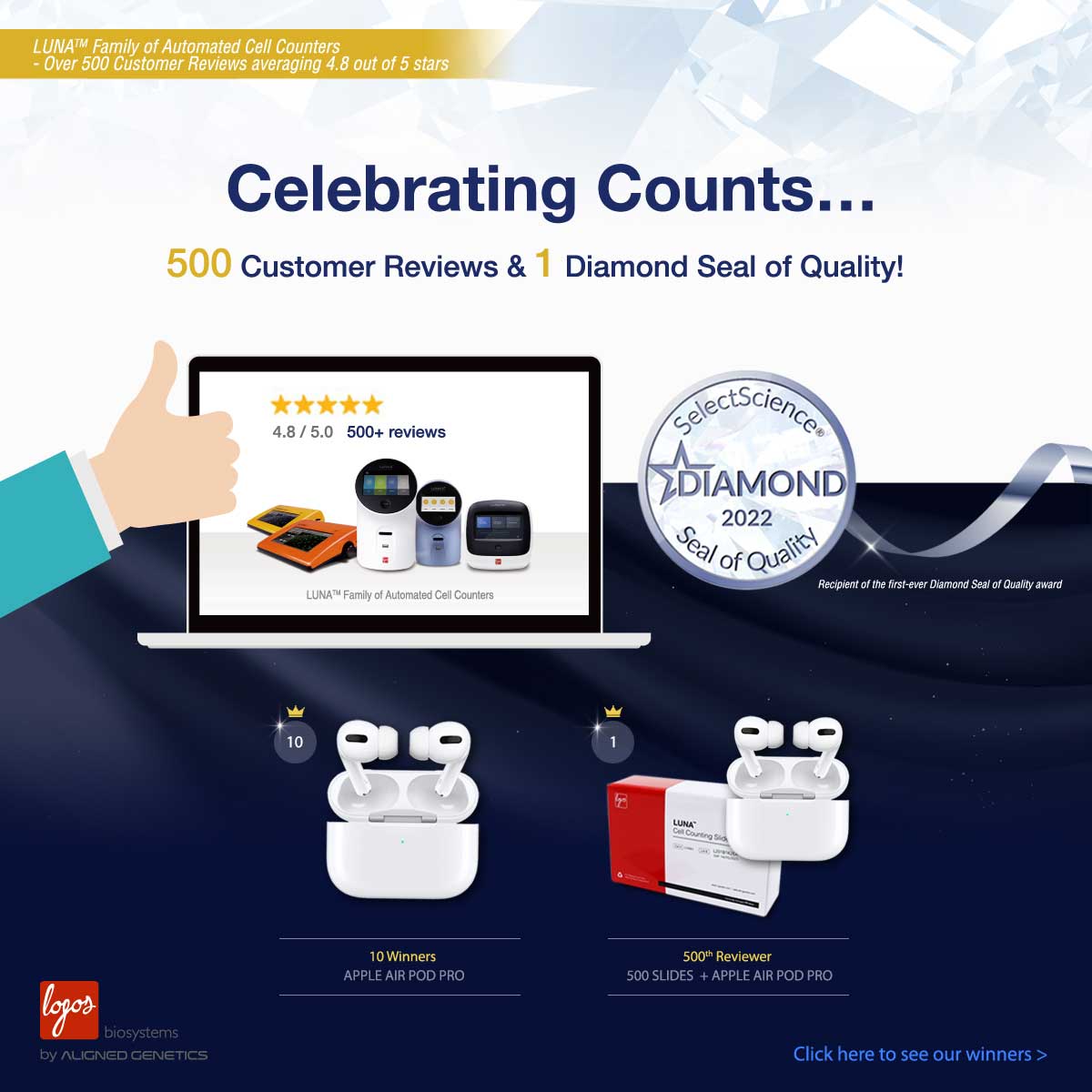 Logos Biosystems receives first Diamond Seal of Quality
The LUNA™ family of automated cell counters receive the first-ever Diamond Seal of Quality by SelectScience®
The LUNA™ family of automated cell counters, made by Logos Biosystems, has been awarded the first-ever Diamond Seal of Quality by SelectScience®, the leading independent laboratory technology website. This exclusive award was presented in recognition of achieving over 500 peer reviews on the website, boasting an overall average of 4.8 out of 5 stars.
In celebration of this achievement, Logos Biosystems, held a random drawing for prizes using the names of all individuals that have provided reviews for Logos Biosystems products. Ten different individuals received a pair of Apple Air Pods. The lucky individual posting the 500th review also received a pair of Apple Air Pods and 500 LUNA™ Cell Counting Slides.
"We feel very honored to have reached this milestone, remarked Neon Jung, Ph.D., CEO, Logos Biosystems, we thank each and every LUNA™ user for providing feedback and helping us achieve this success."
The automated cell counters included in the LUNA™ family are the LUNA-II™ brightfield counter, LUNA-II YF™ yeast counter, LUNA-FL™ dual fluorescence counter, the LUNA-STEM™, and the LUNA-FX7™ counter.
The LUNA-II™ brightfield cell counter received the highest reviews of the group with more than 243 reviews alone.
The original LUNA™ cell counter debuted in 2012 and was the first automated cell counter launched by Logos Biosystems. The LUNA-FX7™ is the newest member of the LUNA™ family and was awarded the 2021 SelectScience Scientist Choice Award. The LUNA-FX7™ incorporates the best of the LUNA-II™ and the LUNA-FL™ to create a robust unit offering higher throughput options and additional features including QC software, bioprocessing feature, and 21 CFR, Part 11 compliance.
In addition to automated cell counters, Logos Biosystems' product portfolio includes a microbial cell counter(QUANTOM Tx™), high-content imaging systems(CELENA® S and CELENA® X) as well as a tissue clearing systems (X-CLARITY™ II).
For a complete list of the random drawing winners, please click here ). Peer reviews for the entire Logos Biosystems portfolio (including the LUNA™ family of automated cell counters) can be accessed on the SelectScience website.